TO ALL THE KIDS WHO WERE BORN IN THE 1950's, 60's and 70's !!
(Author: Unknown)
First, some of us survived being born to mothers who did not have an
OB-Gyne and drank San Miguel Beer while they carried us.
While pregnant, they took cold or cough medicine, ate isaw, and
didn't worry about diabetes.
Then after all that trauma, our baby cribs were made of hard wood covered
with lead-based paints, pati na yung walker natin, matigas na kahoy din
at wala pang gulong.
We had no soft cushy cribs that play music, no disposable diapers (lampin
lang), and when we rode our bikes, we had no helmets, no kneepads ,
sometimes wala pang preno yung bisikleta.
As children, we would ride in hot un-airconditioned buses with wooden
seats (yung JD bus na pula), or cars with no airconditioning & no seat
belts (ngayon lahat may aircon na)
Riding on the back of a carabao on a breezy summer day was considered a
treat. (ngayon hindi na nakakakita ng kalabaw ang mga bata)
We drank water from the garden hose and NOT from a bottle purchased from
711 ( minsan straight from the faucet or poso)
We shared one soft drink bottle with four of our friends, and NO ONE
actually died from this. Or contacted hepatitis.
We ate rice with star margarine, drank raw eggs straight from the shell,
and drank sofdrinks with real sugar in it (hindi diet coke), but we
weren't sick or overweight kasi nga……
WE WERE ALWAYS OUTSIDE PLAYING!!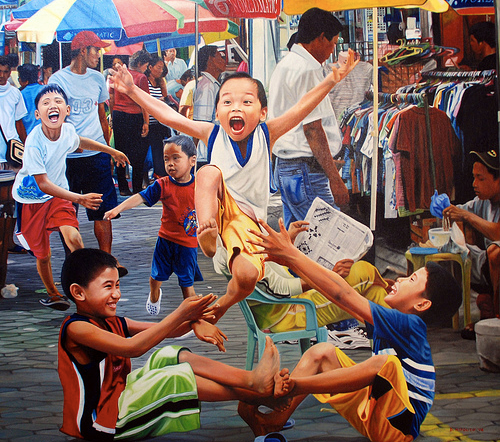 We would leave home in the morning and play all day, and get back when
the streetlights came on. Sarap mag patintero, tumbang preso , luksong tinik,
habulan at taguan.
No one was able to reach us all day ( di uso ang cellphone , walang
beepers ) . And yes, we were O.K.
We would spend hours building our wooden trolleys (yung bearing ang
gulong) or plywood slides out of scraps and then ride down the street ,
only to find out we forgot the brakes! After hitting the sidewalk or
falling into a canal (seweage channel) a few times, we learned to solve
the problem ourselves with our bare & dirty hands .
We did not have Playstations, Nintendo's, X-boxes, no video games at all,
no 100 channels on cable, no DVD movies, no surround stereo, no IPOD's,
no cell phones, no computers, no Internet, no chat rooms, and no
Friendsters……. ….WE HAD REAL FRIENDS and we went outside to
actually talk and play with them!
We fell out of trees, got cut, broke bones and teeth and there were no
stupid lawsuits from these accidents. The only rubbing we get is from our
friends with the words..masakit ba ? pero pag galit yung kalaro mo,,,,ang
sasabihin sa iyo..beh buti nga !
We played marbles (jolens) in the dirt , washed our hands just a little
and ate dirty ice cream & fish balls. we were not afraid of getting germs
in our stomachs.
We had to live with homemade guns " gawa sa kahoy, tinali ng rubberband ,
sumpit , tirador at kung ano ano pa na puedeng makasakitan..pero masaya
pa rin ang lahat.
We made up games with sticks ( syatong ), and cans ( tumbang preso )and
although we were told they were dangerous, wala naman tayong binulag o
napatay.paminsan minsan may nabubukulan lang.
We walked, rode bikes, or took tricycles to a friend's house and knocked
on the door or rang the bell, or just yelled for them to jump out the
window!
Mini basketball teams had tryouts and not everyone made the team. Those
who didn't pass had to learn to deal with the disappointment. Wala
yang mga childhood depression at damaged self esteem ek-ek na yan. Ang
pikon, talo.
Ang magulang ay nandoon lang para tignan kung ayos lang ang mga bata,
hindi para makialam at makipag-away sa ibang parents.
That generation of ours has produced some of the best risk-takers,
problem solvers, creative thinkers and successful professionals ever!
They are the CEO's, Engineers, Doctors and Military Generals of today.
The past 50 years have been an explosion of innovation and new ideas.
We had failure, success, and responsibility. We learned from our mistakes
the hard way.
You might want to share this with others who've had the luck to grow up
as real kids. We were lucky indeed.
And if you like, forward it to your kids too, so they will know how brave
their parents were.
It kind of makes you wanna go out and climb a tree, doesn't it?!
Facebook Comments