As part of our Christmas traditions, our kids prepare loot bags with goodies and toys and we drive around the city and give them away to street children. I remember one Christmas when Ryan was compelled to give the slippers he was wearing to one boy who was walking barefoot. As we have done this year after year,  we saw how it has developed compassion in my kids for the less fortunate. Here is an opportunity for your kids to give this Christmas:
OPERATION CHRISTMAS BOX: Build a Christmas Gift Box for a Child.
Parents, here's our opportunity to show our children how to make Christmas special for other people in need. Just one box can make a whole world of difference.
Here's how to make that difference:
1. Use an empty shoe box or plastic container and fill it up with personal hygiene paraphernalia, school supplies and toys to one person.
2. Label your box for the age of the possible recipient and wrap it like a gift.
3. Place a rubber band or tape around your shoe box and bring your box to EVery Nation Fort Bonifacio Pastoral Services Dept. on or before Dec 15. We will be looking for a VCF community in which to bless these kids.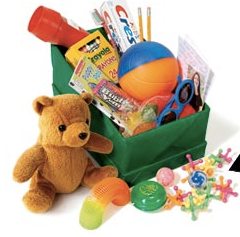 Suggested Gift List:
Personal Hygiene: toothbrush, toothpaste, soap, shampoo, deodorant, comb, brush, towel, underwear, t shirt, shorts, socks, slippers
School supplies: pencils, papers, crayons, sharpener, calculators,coloring books
Toys: yoyos, small cars, jackstones, jump ropes, toys that light up, etc.
Personal Note: you may include a personal note to the child and a photo of yourself or your family.
For more information, you may contact Ms. Ivy Marquez.
Facebook Comments