Our kids are ages 15, 11, 7 and 2. Obviously, they are spaced quite far apart from each other. Some parents prefer their kids to be closer together in age so that they can grow up together and enjoy the same things together, which makes a great point. But we decided we wanted to devote ample time to enjoy each of our children in their toddler years, hence the age gaps of our children.
Though each of our kids have their own "barkada" or peer group, and they're into different extra-curricular activities, and though they have moments of disagreements (sometimes more than i can handle), people are always surprised to see how close they are to each other. Once, we were out of town, our good friend Janelle watched the kids for us and told us how she was amazed at how the kids were affectionate to each other. But that didn't come without any effort. Here are some of the things we have done and still do to keep the kids close:
1. Probably the most important of all, we don't play favorites. We make sure we praise each kid for their individual deeds, gifts and talents.
2. We didn't put TV's in their bedroom. Because they share one TV in the den, they have to agree what to watch and they have to watch it together.
3. On weekends, we let the kids camp out in our bedroom, sleeping on futons on the floor, watching TV series together like Chuck, Monk, 24, White Collar, etc., over bowls and bowls of popcorn.
4. We invest in toys that are of common interest to all. One of the biggest and greatest investment we've made in toys is LEGO. Our kids, no matter what age, love to build and they can spend hours just playing together with their Lego pieces. We also play a lot of boardgames as a family. And recently, we've had to spend on beyblades.
5. We plan regular family trips out of town. Trips force the kids to depend on each other for companionship and entertainment.
6. Never underestimate the power of a group hug. 😀
It is such a great joy to see that our kids have bonded pretty well over the years. I pray that they will even be closer even after Paolo and I are long gone.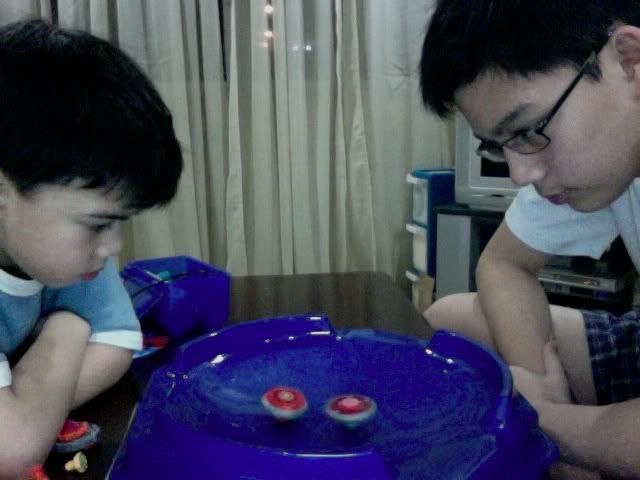 Facebook Comments