Ryan was bugging me to play badminton with him. I could think of a dozen reasons why I couldn't. But I was reminded of something I read from a parenting book that compelled me to get up and play with him.
Below is an excerpt from the book "Age of Opportunity" by Paul David Tripp. Please take time to read it (especially because I had to type everything myself :D) It brought tears to my eyes and I know it will touch your heart too.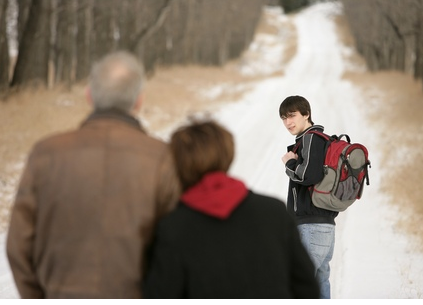 She stood on the porch watching him squeeze another box of stuff into the car. She tried her best to blink back her tears and see a well-prepared young man, but everytime she looked, her mind was filled with the little boy wearing dirty jeans, sporting a milk mustache, and asking for just one more cookie. She wondered how he would do. He was going to be a thousand miles away at a major university. They had been there together and all the necessary arrangements have been made, but this time he was going alone. She wondered how he would do, but she knew she wasn't ready for this.
She wanted to do it all over again. She wanted to do it better. She wanted to grab her son and ask for forgiveness for all those times she should have been there, but wasn't. She wanted to express regret for all the times she had responded in irritation at another request for help. She wanted to take back all the words spoken in anger. She wished for another chance at the science project that was such a disaster and caused such conflict between them. She wanted to go back to all the Little League games that seemed so unimportant and this time be there for all of them.
She wished she had been more faithful in talking about the things of the Lord. She wished she had lectured him less and prayed with him more. She wanted to go back and be more welcoming with his friends. She wished she had gone to his room more, just to ask him about his day, simply to find another excuse to express her love.
Her racing thoughts and silent prayers were interrupted by his voice. "Mom, I'm all packed and I gotta go. I can't tell you how thankful I am for all you and Dad have done. Don't worry about me, you guys have done a good job. I know what's right and wrong. I'll be okay." With the last words they embraced. Tears streamed down her face. She didn't see it, but he cried too.
As they walked into the house, her husband said, "I know we're going to miss him, but we really ought to be happy. We can see the fruit of all of our efforts. It's been worth it. We have a lot to be thankful for."
The goal of parenting is to send young adults out into the world who are prepared to live as God's children and as salt and light in a corrupt and broken world. She was aware that her son wasn't her possession, that he belonged to God, and that she and his father were but instruments in God's hands. She knew that this was a good moment, a graduation, an emancipation, but it was hard to be happy and hard not to want him back for just a little more parenting. Yet she knew that this phase of her work in her son's life was over and that she must entrust him into the hands of a better Father.
Facebook Comments