I got a text from a friend who just gave birth and was asking me for advice on sibling jealousy. This brings me back 12 years ago. I distinctly remember the scene at the hospital. I just gave birth to our second child, Janina, and Nathan came to visit her for the first time. I purposedly positioned Janina down on the bed so when Nathan came in the room, he would have access to me or to the baby, wherever he wanted to go to first. After giving me a tight hug, he immediately went on the hospital bed to take a closer look at his baby sister.  His face was beaming, he was all smiles, he was a proud kuya (big brother!) That was the start of a wonderful brother-sister relationship which holds until today!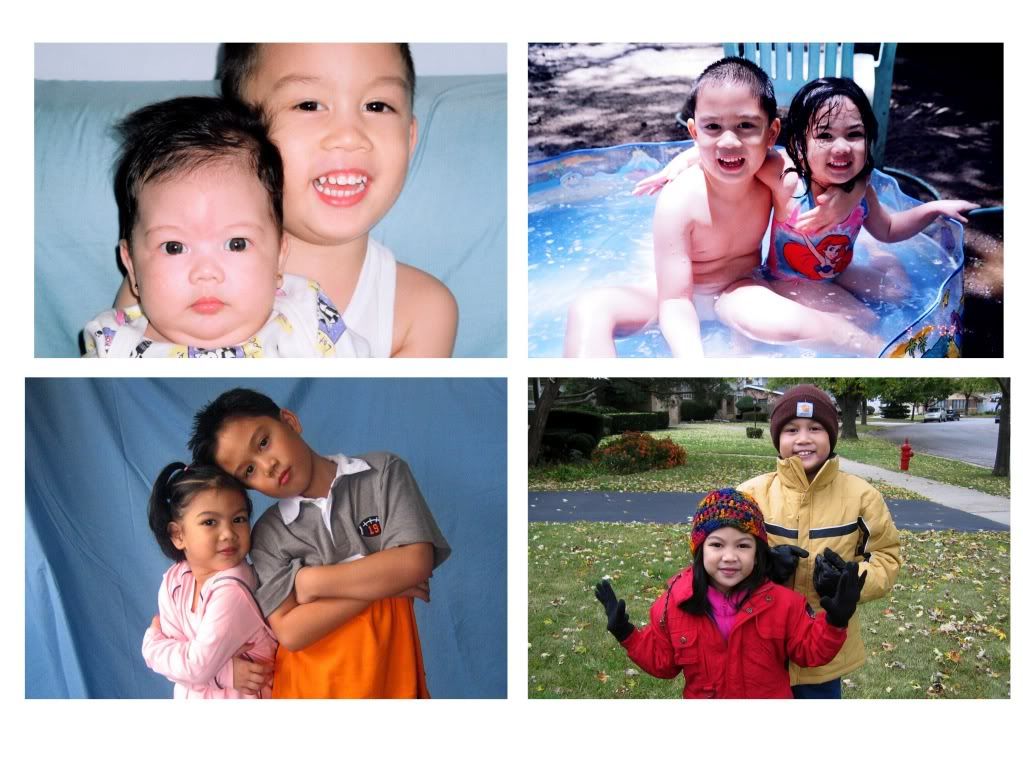 Nathan was an only child for three and a half years until I gave birth to Janina. He was our firstborn, and he was the first grandchild on both sides, thus he was used to our undivided attention, and we knew we had to thoroughly prepare him for the arrival of his sister. I've heard stories when the older child became aggressive towards the baby, or on the other extreme, became withdrawn from everyone, because of jealousy. We were determined to make sure this didn't happen.
Different kids react differently to a new sibling. Most will be excited. They require little preparation. They're instantly the ideal kuya or ate. But some kids on the other hand, require more preparation. They don't instantly bond with their baby brother or sister. Some feel a resentment towards the new baby. A few blogs ago, I wrote about how preparation can be a key to a lot of our children's successes. Here are a few ideas to make the transition easier.
Once you know you're pregnant, refrain from statements like "you're not my baby anymore." You need to constantly assure your kids that your love for them will not change even with the coming of the baby. You also need to stop people who tease them about this.
Show him pictures of your developing baby week by week or month by month. You can buy a book or look for pictures on the internet. Explain how your baby is growing.
You can buy a doll to practice having a baby around. You can use it as a tool to teach your other kids how to be gentle with babies- no eye poking, no fingers in ears, mouth, how they need to be quiet when the baby is sleeping, etc.
You can pull out the pictures of your older child from right after he was born, and talk about how excited you were to have him in the family. Tell them stories about how cute he was, what he did when he was very small, how he cried, how he slept.
Take siblngs shopping for stuff for the baby. Let them pick out clothes, blankets, toys. Bring them to your doctor's appointments.
Organize a playgroup for your older child before baby's born so he feels he has his own group.
You can make a "big brother/sister" or "I'm a kuya or ate" shirt with your older kids.
Take the older child out for a special date for just the two of you or a special day of fun just before the baby is  born.
Get them a gift from the baby when the baby is born . If the baby arrives and immediately has a present for the older sibling it might help turn a positive swing on it.
When you first see the other kids after giving birth, when they come to visit you in the hospital, don't hold the baby so you can give them a hug first. Leave the baby in the bassinet so they could run over and jump in the bed to see you and spend a few minutes with you and then introduce them to the baby.
When your friends and relatives come to visit, tell them to say hi to your other children first before the baby.
When your older child asks for your attention, never say that you can't because the baby needs you. Whenever you can, try to accommodate the older child first. If you can delegate other things to the yaya like changing the diaper or burping, do so, so you have time for the other kids.
Ask help from your older child when you're giving the baby a bath or changing diapers. When you're breastfeeding, don't exclude your older child. You can ask him to sit beside you and watch a video together as you feed your baby.
Do not make other changes like potty training or moving to another bed. Do these changes before the baby is born or a few months after he has adjusted to having the baby at home.
The arrival of your new baby should be a wonderful time for everyone. And with effort and some creativity, it will be!
Facebook Comments